Disclaimer! You should read Part 1 of this blogpost here.
Thank you all for your wonderful feedback from the first part of the blogpost, it was beneficial to see the different perspectives and to get me thinking on how best to address your questions in this post. Now let's get right into it!
I got a couple of questions and calls asking about how and where to start the journey towards attending graduate school in a different country. I am going to address these concerns in this post. I'll discuss the next steps after finalizing your application documents (as promised from part 1) in a bonus blogpost.
A very good friend of mine once told me "Lauretta! you can be forced into enrolling for a particular undergraduate degree, but you cannot be forced into graduate school". These words resonated with me throughout my days in graduate school especially the very challenging days! Why? You ask. I chose my university and course of study by myself no one did that on my behalf, it was my choice. What I am trying to say is, you should ensure you pick a course that is forward thinking, relevant and one which you have an interest in (especially if you are going to be studying in a research-based program). An efficient way to know what course of study is forward-thinking is to do your RESEARCH. Use platforms like LinkedIn, google search and your social or professional networks to see what is out there. Our world is fast changing with a lot of career intersections and new career pathways, so make sure you are NOT choosing a course/program on the verge of being obsolete or one with declining interest in your chosen industry.
After choosing your course/program of study, the next thing is to decide on a university. There are several ways to do this:
Based on University Rankings: Resources such as the Quacquarelli Symonds (QS) World Rankings, rank universities globally every year. You can use the most current rankings to narrow down your university search. However, you should check that the selected universities offer scholarships and be aware that a lot of potential students want to attend the top universities in the world. Meaning… you should get ready for healthy dose of COMPETITION! These universities pick the best of the best and may have stricter entry requirements. That said, you can still achieve your dream with the right mindset and good preparation.
Based on Country: A frequent way to migrate to a new country is usually through schooling. So, if your long-term plans are to experience education and work in a different country, then you might want to choose this strategy. Countries like Canada offer a post-graduate work permit to students after graduation to encourage them to stay behind and add value to its economy. If this is your preferred option, you can use country specific QS rankings to find the best universities in the country of your choice. One advise I give my mentees is to fully research and UNDERSTAND the requirements to gain an immigration status post-graduation. For example, in Canada, the length of the post-graduate work permit issued can be dependent on the length of your graduate program. Most times, research-based students enjoy this benefit, while short-term post-graduate diploma programs – not so much! The emphasis here is not on the program type but on the length of study. Some countries may also have incentives for international students; for example, Canada recently opened a temporary permanent residency stream to immigrants who graduated from a Canadian university.
Based on Course of Study: In this case, google is your friend as you can easily search for top universities based on courses and country. While some universities may be top quality universities they may be weak in certain programs, using this strategy can get you the best of both worlds – best university for your specific program of choice and country. Again, you should CHECK for scholarship opportunities in these universities.
Based on (Perceived) Ease of Getting an Admission: While this may not be the best strategy to get into the best university for your program of choice in the country you decide to study, it can get you a quick and less stressful admission. For example, some universities in the United States (US) may require you to write the Graduate Record Examination (GRE) test or a Graduate Management Admission Test (GMAT), while some do not (e.g. some universities in Canada). Some universities may also waive English exam requirements for certain countries (e.g. some universities in the United Kingdom). I focus mainly on US, Canada, and the UK here because these were the countries I shortlisted during my search. Of all the 3 countries, I found it easiest to get my admission (as a Nigerian trained undergraduate) into the universities in the UK. The downside here however is, these universities may or may not offer scholarships or may offer partial scholarships (as in my case). However, if this a strategy for you, there may be other scholarships external to the universities available to you which you can take advantage of.
Now that we have established the program and university of your choice, all that's left is to begin the application package.
In part 1 we discussed different streams and what application documents would look like, I encourage you to read it here. A beneficial tip to make your admission process a breeze especially if you are opting for a research-based program, is to reach out to a potential supervisor. Some universities require that you secure one for yourself as part of the admission process, others may choose to assign one to you at the time of admission. All in all, it is never a bad idea to reach out and sell yourself. So, how do I do this? You ask.
Search faculty members (professors) in the program you have chosen.
Familiarize yourself with the research areas they work on and see what interests you. This may include reading some of their research articles.
Reflect on what value(s) you can add and perspective(s) you bring to the research. Also, think of how their research could add value to your long-term goals.
Draft an introductory email to the faculty member:

Clearly introduce yourself;
Background/interests and how they may have prepared you for the research area;
What piqued your interest in their research work;
The value you can bring to the research work and broader research team;
How soon you can start school. It's good to indicate that you are interested in funding opportunities in your email;
Give a summary/concluding statement and your contact details.
I cannot stress enough how important it is not to copy and paste a template you find on the internet. ORIGINALITY is key to succeed in graduate school and what better way to show it than through your first written communication to a potential supervisor. I have had to review emails sent by potential students to a faculty member and it was always easy to spot out templates from the ones that were thoughtfully written. Don't get me wrong! Templates are a HUGE resource, but you should not copy and paste verbatim, they are tools to give you the basics to form your own ideas.
I'll round up by saying this – it is always best not to put all your eggs in one basket. While you may have a first-choice country, university, and/or program, it's never a bad idea to have other options (a second choice). However, if you are fixated on a particular choice, then it can play as a strength as you know what is AT STAKE! I spoke earlier about choosing a forward-thinking program – graduate school can be a time to explore other career paths. Do not feel like you are stuck with the same path you studied for your undergraduate degree. I have a friend whose undergraduate degree was in economics from Nigeria but studied a Master of Engineering course in Spain. INFORMATION is key! Check the program requirements and see what adjustments or extra courses you may need to take to make that switch.
Remember to do the RESEARCH AND THE WORK!  I wish you all the best with your applications!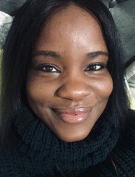 Lauretta Pearse is a first-class graduate of Civil and Environmental Engineering from the University of Lagos (Nigeria) and she also obtained a distinction in her Master's degree (MSc.) in Civil Engineering at the University of Calgary (Canada). She is currently a Civil and Environmental Engineer with an engineering consulting firm in Alberta, Canada.
She can be reached for questions and consultations via thethrivinggradstudent@outlook.com