Have you recently graduated from school or are you in the job market for a new job? In this series of 5 articles, I would give you tips that will come in handy in landing your next job. The first article will focus on 'the search', how do you go about it? The 2nd article will focus on your CV, how should you write it, the 3rd article will focus on the job interview, how do you prepare? The fourth article will focus on salary negotiation and in the fifth article, we focus on accepting the offer and starting strong.
Searching
Before giving advice on how to search for new opportunities, the first thing you should understand is what recruiters look out for in an ideal candidate. Recruiters are not just looking for someone who can do the job and who has the right experience and attributes, they are also looking out for someone with the right attitude, someone who will fit in with the culture of the organisation. The recruitment process is designed to find that person. Your CV tells them about your experience and if you can do the job, the interview or in some cases interviews is designed to validate the information you have on your CV i.e., the interview is designed to confirm if you have the right experience and if you are a right fit for the job. Recruiters realize that one day is not sufficient to determine or fully assess a person's character so they ask you for references from your previous employer. In most cases, recruiters know that the best reference is from someone that works in their organization. Such people will seldom recommend people they cannot vouch for as they have to protect their reputation in the organization.
'ATTITUDE is a little thing that makes a BIG DIFFERENCE' – Winston Churchill.
Searching for that new opportunity comes easy for some and for others, not so easy. A good and obvious place to start the search is on LinkedIn. For those on LinkedIn, I would advise that when you see a company advertise for a position on LinkedIn, you check your connections on LinkedIn for someone who works in that company or if your connection is connected to someone who works in that company. This way, you can get a referral to the hiring manager from someone who can speak about your character. Secondly, in addition to applying on LinkedIn, it's a good idea to go directly to the recruiting company's website and apply directly, that way your application is not lost amongst the 100s who have also applied on LinkedIn.
Apart from job sites such as LinkedIn, a more effective way is networking. Get out there, attend job fares, seminars and online professional events related to your area of expertise. The key to choosing which events to attend is to focus on events where you will meet people more likely to require your service or more likely to know someone who would. Design and print a simple business card with your name and phone number on the front and a very brief description of your expertise at the back to hand out to key people at networking events.
'If you want light to come into your life, you need to stand where it is shining' – Guy Finley
During the search, it is important to ensure you don't leave too big a gap between jobs in your CV. The bigger the gap, the more difficult it is to get a job. Consider furthering your skills/education, attending professional courses or doing volunteer work in between jobs. Volunteer work is defined as work without pay, whilst it may seem like this is the last thing you need especially if you are under financial pressure, it is actually a great thing to do as it gives you an opportunity to learn new skills, achieve more successes and meet new people who may be in a position to hire you. Make sure you do a good job when volunteering as doing a poor job because it is unpaid will be counterproductive. In fact, it is better not to volunteer than volunteer for a position you are unable to do properly or succeed in. If you decide to further your skills whilst searching, ensure you pick a course that has an option to do part time in the same city where you are job hunting so that you can still finish the course even if you get a job halfway through the course. 'It always seems impossible until it is done' – Nelson Mandela
Another thing to consider whilst searching is to spend some time working on an alternative to a 9 to 5 job. Take this as an opportunity to look into starting that consultancy or that farm you had always wanted to do. This gives you a project to work on and will keep you busy during the job search. Believe me, the busier you are whilst looking for a job via working on your project, applying for work online, networking, etc the faster you will find that new job. Infact, it is often said that people searching for jobs the right way are busier than people in employment. So, if you are one of those who say, 'I don't have much to do right now as I am in between jobs' you need to consider a different approach to your search. 'If opportunity doesn't knock, build a door' Milton Berle
Searching for a job can be very stressful and worrying especially if you have been searching for a long time. It is very important that you keep a positive mindset throughout the process. Keep in touch with your friends, go to social events and try and grow your network, keep that business card close by, and enjoy the search. Hopefully, someone you meet through networking or volunteering or in school will give you that call requesting your CV. In the next article in this series, we will provide some tips on writing the 'hire me now' CV that would get you that interview. 'if you are positive, you will see opportunities instead of obstacles' Widad Akrawi.
Do you have any job search tips that worked for you? Please join in the discussion by leaving a comment from your personal experience in the comment section.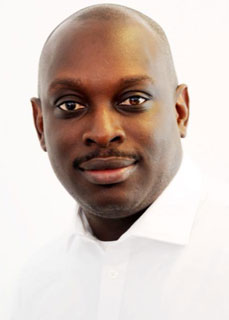 Ronye has a Bachelor of Civil Engineering from the Federal University of Technology, Minna and a Master of Science in Engineering Geology from Imperial College London.
He also has a Master of Business Administration from the Said Business School, University of Oxford. He has over 18 years' experience working in the Oil and Gas Sector. He started his professional career in 2001 as a Geotechnical Engineer with Technip in Aberdeen. In 2005, he joined Acergy as a Senior Geotechnical Engineer and moved to Subsea 7 in 2007 as a Principal Geotechnical Engineer. In 2009, he assumed the role of Graduate Development Manager responsible for the development of over 30 graduates ensuring they developed the skills and experience required for professional qualification.
In 2010, he was made Engineering Manager in Subsea 7. In 2014, he joined Reef Subsea as Engineering Director based in Aberdeen, United Kingdom.
Ronye is a certified Project Management Practitioner, a European Engineer. He is a Chartered Geologist, Chartered Engineer, Chartered Manager and Fellow of the Geological Society, London, the Institution of Civil Engineers, UK and the Chartered Management Institute.
Ronye is currently Managing Director of RETECH Energy Services Limited.